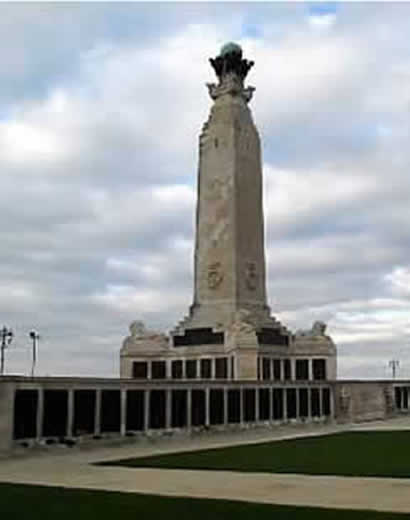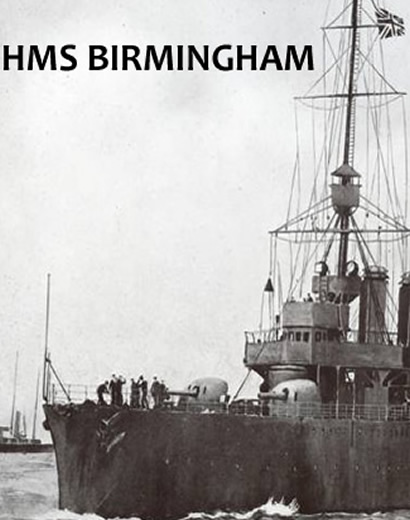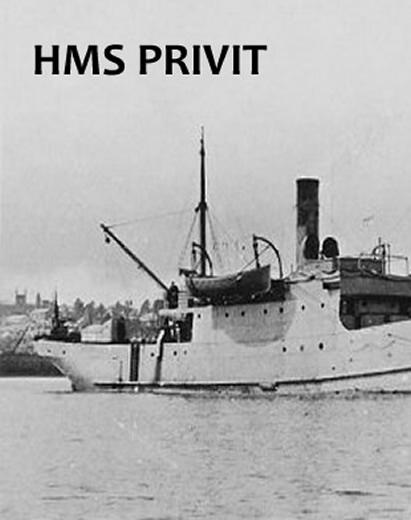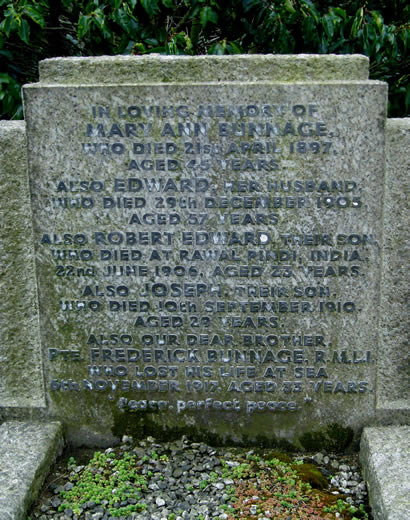 Fred Bunnage was born on 8th Nov1884, the son of Edward and Mary Ann, née Dawson. He was one of nine children, the fourth and youngest son. The family had long roots in Lemsford, with his grandparents on both sides having lived and worked locally.
In 1891 the family were living in Cromer Hyde, and Fred's father was working as a traction engine driver. His eldest brother, George, aged 15, was already a farm labourer, and his eldest sister, Elizabeth Jane, aged 19, had left home and was a servant to a Hatfield family.
Sadly, in 1897 Fred's mother died, aged only 45, leaving a very young family, including three daughters under 10. Fred himself was only 12 or 13. Like many young men from rural families, Fred saw the army as an opportunity for a different kind of life to that in a small village. On 1st Jan 1901, aged 17, he joined the Royal Marine Light Infantry, his name subsequently appearing as Bunnidge. He gave his occupation as agricultural labourer and was listed as 5' 6" tall, with a fresh complexion, brown hair and blue eyes. His height was amended a couple of years later to show him as 5'9", so the food on offer in the military clearly had an impact. Fred was sent for training at Deal, in Kent, and then Portsmouth. A year after signing up he boarded his first ship, HMS Trafalgar, on 1st Jan 1902. Over the next 12 years he would serve on a total of 11 different ships, taking him all over the world.
Family news would have been slow to reach him, but amidst news of weddings and the births of nephews and nieces, would have come the sad news that his father had died in December 1905, only to be followed by the death of his brother, Robert Edward, in June the following year. Robert had followed his brother into the military and served as a Gunner with the Royal Artillery Garrison. He contracted enteric fever and died at Rawalpindi – which is in modern day Pakistan. Just four years later, in 1910, a second brother, Joseph died and was buried alongside their parents. When war broke out in August 1914, Fred was serving aboard a newly built ship, HMS Birmingham. He was part of the fleet patrolling the North Sea, and within the first week of the war he saw action when his ship rammed and sank German U-Boat 15, the first such sinking of the war. The Birmingham went on to take part in the Battles of Heligoland (1914), Dogger Bank (1915), & Jutland (1916).
HMS Birmingham took some damage during the Battle of Jutland, and Fred was re-assigned to Q19 also named HMS Privet. The Q class of ships were decoy merchant ships, taken over by the navy, equipped with guns, and designed to lure the enemy into an attack by appearing as sitting ducks, then firing on them before they realised what was happening. In March 1917 this ploy was successful when the Privet sank German U-Boat 85 in the English Channel killing all 38 crew aboard. Fred was then sent to join the crew of another Q-ship, Q36 or HMS Puma, but by now the German navy was alive to the ploy and on 6th Nov the Puma was sunk off the coast of Gibraltar. Fred and all his crewmates were killed.
His name was included on the Naval Memorial, Portsmouth, as well as on the stone marking the grave of his parents and brother in St. John's churchyard. His family received a war gratuity of £19.