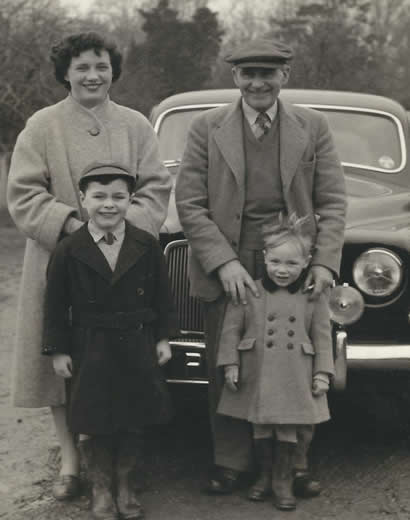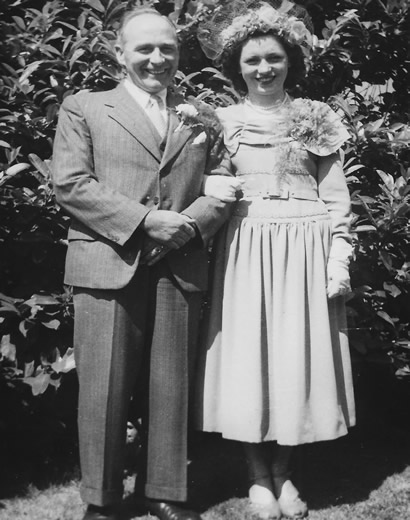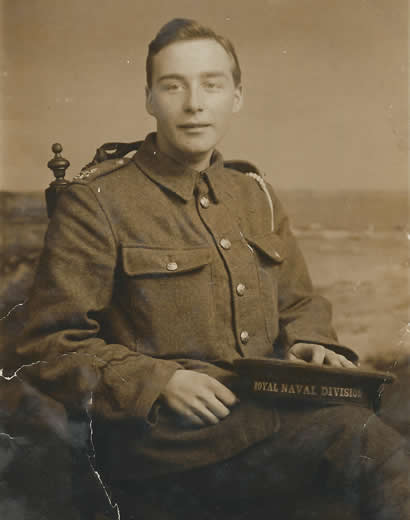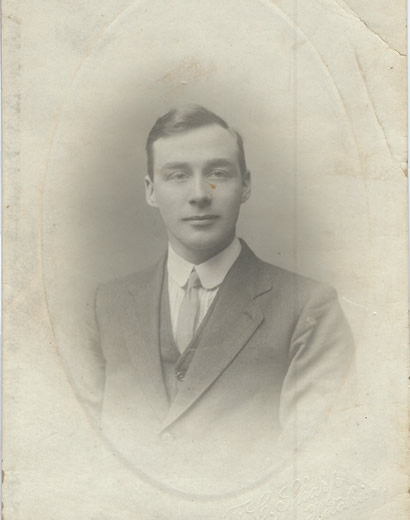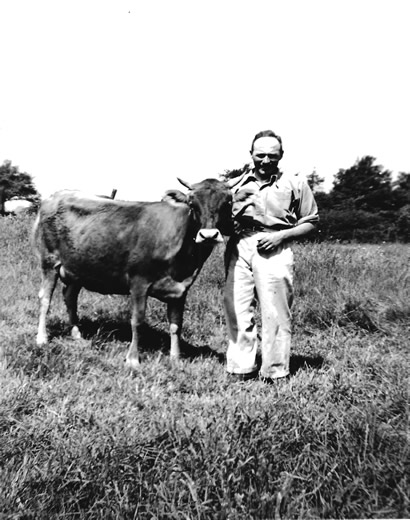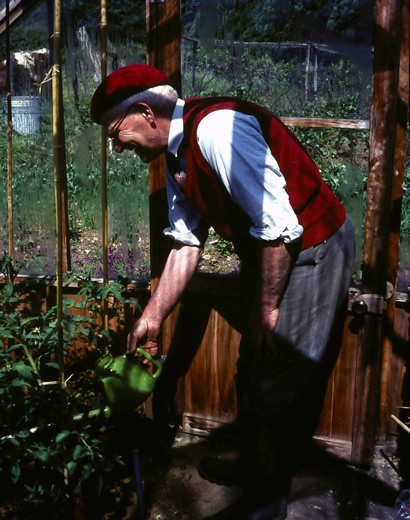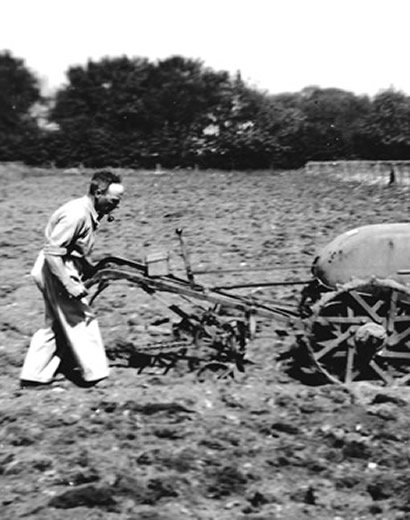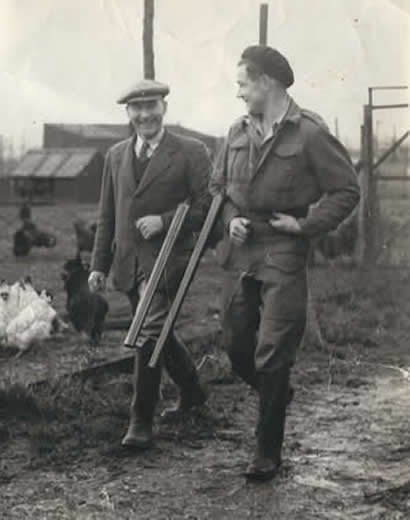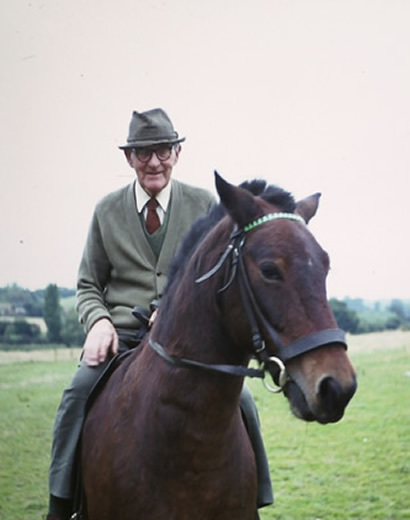 From the 1930s to the 1960s, Bernard Wallis ran a poultry farm on Brocket Road, and farmed on the land behind Roebuck House in Lemsford. During this time he was very active in the local community, serving on Hatfield Parish Council and trying his utmost to get more houses built in Lemsford.
Early years
Bernard was born 30th June 1897 to Jeremiah Wallis and Eliza Wallis. (Jeremiah was born ca 1866). He had one older sister, Mabel, and two younger sisters Hilda and Daisy.
The family lived at Church End in Weston, Hertfordshire. Bernard's father was a shepherd and the family, therefore, was relatively poor. Mabel married and emigrated from England to Canada when she was fairly young.
Bernard attended school in Weston and left at the age of 13. He valued the knowledge gained through reading books and this helped him throughout his life (eg vehicle maintenance, farming, and gardening).
His first job seems to have been groom/gardener possibly associated to Canon Fox Lambert of Aston Dene, Stevenage.
First World War
On 13th Feb 1915, Bernard applied to join the Royal Field Artillery. At that time he was younger than the required age of 18 years and was, therefore, rejected. He believed that someone had informed the recruiting office of his true age. (Possibly Canon Fox Lambert.)
About two weeks later, on 1st March 1915, he applied to join the London Division of the Royal Naval Volunteer Reserve (RNVR) at their recruiting centre on Commercial Road in Lambeth. A false date of birth was used on the enrolment form (30th March 1897 rather than the true date of 30th June 1897). This meant that he appeared to be nearly 18 years of age.
When asked, he informed the recruiting officer that he could not swim. The recruiting officer then reasoned that, since he could swim to the bottom, they would answer the question on the enrolment form as "Yes, a little".
Bernard was accepted by the RNVR and shortly afterwards started training at the Crystal Palace in Sydenham, South London. He was then transferred to Blandford Camp, Dorset.
He was assigned to the Drake Battalion of the RNVR on 1st Aug 1915 and was then sent to Gallipoli to take part in the Dardanelles Campaign. Landing at Suvla Bay, the Battalion were immediately exposed to fire from the entrenched Turkish forces. There were enormously high casualties on both sides due to the exposed terrain, extreme heat and closeness of the front lines. In addition, many casualties resulted from an epidemic of dysentery, caused by poor sanitary conditions (dead bodies, flies etc). Bernard was wounded in the knee and, to make matters worse, he contracted dysentery. He was sent back to England on a hospital ship and admitted to the Royal Naval Hospital Haslar in Gosport on 26th Sept 1915. He also suffered from tuberculosis for some period of time.
Post First World War
After the First World War, Bernard became employed as a chauffeur. He was an excellent driver and quickly learned how to maintain cars. He worked "in service" for a number of wealthy households, driving cars of various types including Daimler, Rolls Royce and, Humber. He saw the high living of those times; driving to shooting trips, the RAC Club in Pall Mall, horse racing events etc.
Employers included a Mr Rose, a Mr Lambert and, notably, a Captain Rushbrook. Bernard was particularly close to the Rushbrook family who regarded him highly and treated him very well. Their car was a blue Rolls Royce with yellow wheels and had the Rushbrook coat of arms emblazoned on its side.
The financial downturn of the 1920s meant that the gentry needed to sell their houses and reduce their staff resulting in Captain Rushbrook no longer needed a chauffeur. He kindly provided Bernard with financial support in order to help him later set up as a poultry farmer.
Poultry Farm
During the late 1920's or early 1930's, Bernard (known as "Bunny" to his family and friends) decided to take up poultry farming and moved to a council farm at Brocket Road, Lemsford. (The house is now named Meadowcroft.)
Although primarily a poultry farm, he also kept a few cattle and used some of the land for limited arable work.
The breeds of chicken included Rhode Island Red, Black Leghorns and White Leghorns. These were initially kept in large wooden "houses" but he later expanded the chicken housing arrangements by acquiring army style "Nissan" huts. One of the large sheds housed two incubators to facilitate egg hatching. It is believed that school children from Lemsford were occasionally invited to view the newly hatched chicks.
In 1936 he purchased an Anzani "Iron Horse" two wheeled walk behind tractor which he used for cultivating the land. As time progressed, better and bigger agricultural machinery was acquired including tractor powered equipment for processing and mixing feed for the chickens. Eggs were sold directly from the farm although Bernard also regularly made deliveries by using his car. In order to allow for a wider egg distribution, he and others set up a packing station company in Eaton Bray.
Bernard considered that the inclusion of shredded wheat to the chicken meal enhanced the quality of the eggs he sold. He therefore arranged for the Welwyn Garden Shredded Wheat Company to make deliveries of their product to the farm.
Bernard knew many of the local farmers and was particularly friendly with the Bray family who worked the neighbouring farm. They were excellent farmers and very helpful to him.
Various local people worked on the farm, notably Bernard Reeves (during the 1930's and 1940's) and Bill Dance (during the 1950's). During the Second World War a German prisoner of war was also employed.
In 1949, Bernard married Freda Wallis (a local girl from Stanborough) and they later had two sons.
During the mid-1960's Bernard decided to retire from farming and thus surrendered the Poultry Farm Lease on 26th May 1964.
Work with organisations
During the period of his life spent at Lemsford Poultry Farm, Bernard was very active within the Lemsford community. He served on the Hatfield Parish Council as an independent for over 9 years during which time he tried his utmost to get more houses built in Lemsford. He also took the following roles at various times:-
• Chairman of the Old People's Welfare • Chairman of the Lemsford Residents Association • A Trustee of the Lord Mount Stephen Trust • Chairman of the Edward Smith Charity • A Trustee of the Parish Hall • A Manager of Lemsford School • Vice-Chairman of the Parish Hall Committee.
To view 1958 Election Poster
Click Here
Having a rural background together with farming experience, Bernard became involved with a number of organisations related to agriculture. These included the following roles:-
• Member of the Council of the National Farmers Union of England and Wales • Represented Hertfordshire on the Accredited Poultry Breeders' Federation Council • Member of the County Council Smallholdings Committee and Tenants Selection Sub-Committee • Member of the County Executive of the National Farmers Union., Publicity Committee, Finance Committee, Chairman of the Country Poultry Committee, Co-operation Committee and Chairman of the Poultry Specialist Branch • Chairman of the Hertford Branch of the National Farmers Union and member of its Social, Finance and Parliamentary Committees. • Member of the Ministry of Pensions and National Insurance Tribunal (Hertford)
Retirement at Roebuck Farm
Bernard had purchased Roebuck Farm in Lemsford probably during the 1950's. It comprised a house, about 20 acres of farmland and various buildings including a bull yard and a large barn. The farm had previously been used by Cambridge Cattle Breeders. Bernard had leased out Roebuck House whilst using the land and facilities to support his agricultural business.
In 1964, aged 66 years, Bernard retired and the family left Lemsford Poultry Farm and moved to the house at Roebuck. As his sons had little interest in farming, Bernard leased out the farmland and buildings as stabling for horses.
Bernard then enjoyed life dedicated to gardening at Roebuck where he could keep involved with his other great interest, horses. Bernard passed away aged 95 on 18th Dec 1992.